Day 1, September 07, Troy, IL to Rolla, MO
We came across a fellow on a motorcycle at the Chain of Rocks Bridge this morning. Asked where he was from and, through very little English and our very little Spanish, ascertained he was from Spain. We found him again at the Meramec Caverns. Not unusual at major points of interest.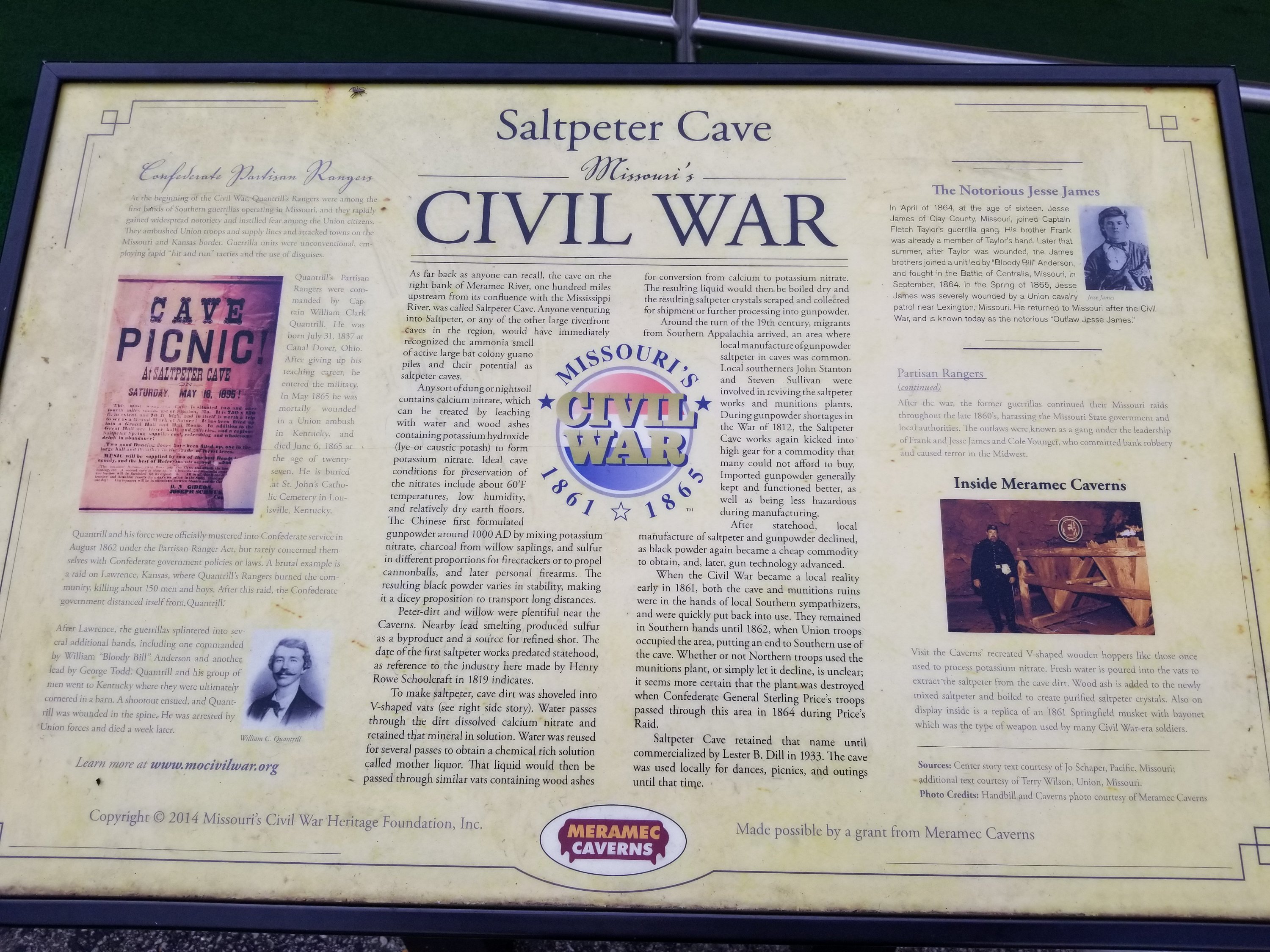 We meandered along to Missouri Hick BBQ where we stopped for some good food and friendly folks.
Checked into BW Rolla for the night and during my evening walk who do I run into but guy from Spain. Spent more time trying to converse and learned that after a very wet ride today, he was facing another wet ride tomorrow and had to make a flight out of Tulsa. After a couple hundred miles he was staying 6 rooms down the corridor from us.
Day 2, September 08, Rolla, MO to Carthage, MO
The most interesting segment. Probably of the entire trip. Out of Rolla we took a 3 mile dead end to what was once the town of Arlington. Now a collection of several residences in the remaining buildings.
On to Devil's Elbow Bridge and the Elbow Inn and BBQ Pit.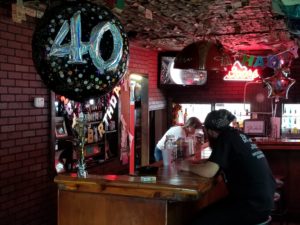 The owners (birthday girl behind the bar) tell me that the place is really hoppin' in the evenings, both locals and tourist traffic from the motels up along a later alignment of 66. Keep in mind that we are traveling only the oldest parts of 66 that we can find. Sometimes just a dirt road. I committed to the owners that I would return in another season with a lighter load than our current big truck with big trailer. I could definitely spend some time in this bar!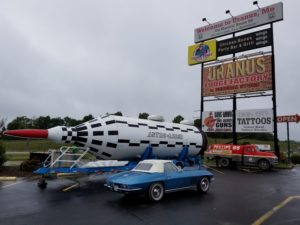 Uranus Fudge Factory. What else is there to say but 'the best fudge comes from Uranus'. Hey! It's their slogan…I didn't make that up. I declined to sample the product.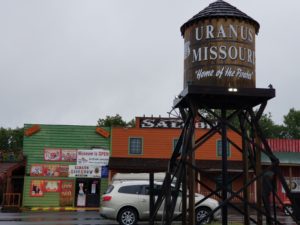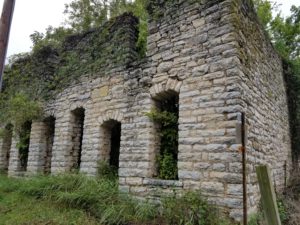 Next we found a long abandoned mortuary and casket factory. All that remains here are the outside walls. A forest has reclaimed the interior of the building and reaches through where the roof once was.
Then in to Halltown where we just had to visit Charlie at the Whitehall Mercantile. Charlie plays piano at his church and tells me that every Friday and Saturday nights there is local music at no less than 5 spots each night.
Here Charlie is pulling down a locally crafted fiddle from 1934. A state away I started kicking myself for not acquiring that piece of Americana. The kicking continues.
Stopped in to admire Gary's Sinclair station.
We had heard that Gary was quite the character and along the lines of 'never met a stranger'. He was known to greet everyone like he just saw you this morning.
Unforturnately, Gary and soon after, his wife Lena, died in 2015. Gary's daughter, and son-in-law George, now care for the place and seem to be continuing the tradition without missing a beat!
Found the historic Boots Court Motel in Carthage.
Built in 1939 it was slated for demolition by Walgreens a few years back. That's when Debbie-D, sister Priscilla, and childhood friend Debbie, stepped in. They purchased the motel and have been restoring it a room at a time. Located at the intersection of highways 66 and 71 in Carthage, they set their room rates at $66 and $71.
We were lucky enough to stay in the Clark Gable room complete with the newspaper articles about the actor's visits and where he stayed. Right here! After a good rest listening to the radio play such memories as 'Don't Sit Under the Apple Tree' and other 40's and 50's classics all night, it must be time to head in to Kansas?