Well, we did not get back on the road by 6PM Wednesday, turned out to be 10AM Thursday. Stuck in Laramie for two days put us way behind schedule. A solid 11 hours driving from Laramie to Des Moines gets us back on track to get in to Madison by 3PM Friday, Robin's Birthday.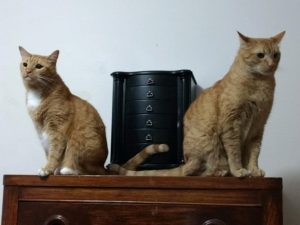 Celebrate by unloading the trailer, checking into our hotel on the far side of town, then back to unload the truck and have a wonderful Birthday Dinner prepared by Ailea's new roommate, Alexa!
Weekend spent shopping for whatever Ailea needs to get unpacked and setup before work starts Monday morning. Cats seem to happy already. No more harnesses!